Can I visit your store?
We have three beautiful rooms in our home dedicated to all the wonderful sound healing instruments. These rooms are filled with crystal singing bowls, practitioner wands, Himalayan singing bowls, gongs, native flutes and drums, shakers, tuning forks and tongue drums.
We are open by appointment only. Our reasoning is that when you are listening to the sounds of an instrument, you don't want other customers making sounds on other instruments.
By booking an appointment you get the full experience, I can give you 100% of my attention to help you find the perfect instruments. I am a trained musician, music educator and sound practitioner.
Can I come today?
I am sorry to say, but most likely not. We will probably be either closed or already booked up today. However, it doesn't hurt to try and call and see if I can squeeze you in.
905-563-3234
We are usually booking clients about three weeks in advance.
Can I pick up my order in person?
Of course you can!
In the checkout, just click Curbside pickup.
Shipping in Canada
Free shipping in Canada for orders over $250
We are located in Ontario, Canada, and ship with Fedex.
Shipping times range from around 1-2 days in Southern Ontario to 4-10 days to further locations across Canada.
Shipping to U.S.A.
Your sound healing instruments will arrive by Fedex unless you request a different carrier.
When importing from Canada to the USA, a duty charge and a brokerage fee might be incurred.  You will be responsible for this fee.
How much is shipping to the USA?
When you get to the checkout, you will notice is says "Call for a shipping rate" and then you are charged $1.
We did this to save you money.
If we can stack two singing bowls in one box, we will do so, and save you money on the shipping fees. The online checkout cannot calculate what can be stacked and what can't. To calculate your shipping fees know that we need two inches between bowls to ship two bowls in one box safely.
Rates to the Continental USA
8" to 11" Bowl plus mallets - $40 
8" to 11" bowl and one bowl that is at least 2" smaller, plus the mallets - $40 
11" or 12" Bowl plus mallets -$45 
11" or 12" bowl and one bowl that is at least 2" smaller, plus the mallets - $45 
13" or 14" Bowl plus mallets -$55 
13" or 14" bowl and one bowl that is at least 2" smaller, plus the mallets - $55 
16" Bowl plus mallets - $85 (Cannot stack anything inside)
Shipping to the United Kingdom
When shipping the bowls, we can pack a smaller bowl in a bigger bowl, if they are at least two inches different in size. Example 12" bowl in a 14" bowl.  Shipping cost would be for just the one 14" bowl.

6" - 8" bowl : Surface 4-12 weeks - $105 CAN or Air 6-12 days - $135 CAN
9" - 10" bowl : Surface 4-12 weeks - $120 CAN or Air 6-12 days - $160 CAN

11" - 12" bowl : Surface 4-12 weeks - $150 CAN or Air 6-12 days - $210 CAN

13" - 14" bowl : Surface 4-12 weeks - $185 CAN or Air 6-12 days - $265 CAN
Remember, we can pack 2 bowls in one box, so shipping for a 14" bowl and a 12" bowl would be the rate of one 14" bowl.
How long until you ship my product?
We will package your product within 24 hours, and ship it as soon as possible.
A tracking number will be sent to you as soon as we have one.
Are products insured during shipping?
Yes they are! If your musical instrument arrives damaged, call us immediately and we will make arrangements to send you a free replacement.
What if I don't like my instrument when it arrives?
We want you to be 100% satisfied with your purchase.
If for some reason you are not happy, please call us. We want you to love what you buy, and we are happy to work with you to find the perfect item. 
If you want to return or exchange an item, just give us a call. Shipping is at your expense. It must arrive to us in the same condition as when it was shipped out. Once we have received your returned item, and have inspected it, we will issue a refund minus the cost we paid to ship the instrument to you.
What if I break my bowl?
Congratulations, you are a member of The Official Broken Bowl Club. All members receive a 15% discount on a new purchase to replace a broken bowl. Just send us a sad photo of your poor bowl and we'll send you your coupon. If you are visiting us, and have no plans for your broken pieces, please bring them to us. We will happily use them to experiment with new gemstone finishes.
Our cat Theo, who is a whopping 21 lbs, was the founding member of The Official Broken Bowl Club. We foolishly placed an 18" frosted bowl under the window ledge where he bird watches. Oops! Needless to say, he decided to jump over to the couch, hoping to use the edge of the crystal singing bowl as a springboard and... the club was founded.
Actually, the frosted crystal singing bowls are very durable. Broken bowls usually occur when items are dropped into them, if they are accidentally kicked, or when cats use them as springboards.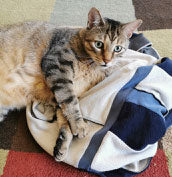 Don't hesitate to call us - we'd be happy to help
If you were to visit our shop in person, you wouldn't hesitate to take an hour chatting with us, so don't hesitate to call and chat with us for an hour on the phone.
Honestly & truly- please give us a call if you need any help at all. 
We will answer your call: 10 am to 9 pm, 7 days a week.
905-941-4695
Who can join?
We like to support business that support us, so we have started an Affiliate program. If you help your clients choose their items and they order directly from our online store using a coupon that you give them, you can earn 12% in store credit* towards the purchase new instruments.

Please contact us for approval in this rewarding program.
*12% on most purchases.
Open to:
People offering sound training
Therapists
Sound Practitioners
Yoga studios
Not on the list? Call us and ask if you fit in this category.
Call 905-563-3234
where to eat when we visit you
Greek Restaurant
We frequently go for the Greek salad or wraps at the Falafel Houz. Great large servings!
3 Mountain St, Grimsby, ON L3M 3J5, Canada 289-235-9034
Thai Restaurant
Grimsby Thai is one of our regular restaraunts. Our favourite is to order one dish of Pineapple Rice plus a side order of spring rolls. That is plenty of food for the two of us. Delicious!Grimsby Thai
Japanese Restaurant
In Grimsby we order Dinner for One from Do Eat Sushi. We usually order Chicken Chop Suey or General Tso's Chicken. We have not tried anyting else on the menu because we like these options. We sometimes split one dinner if we are not starving. Big servings.Do Eat Sushi
Chinese Restaurant
Don't be fooled by appearances. This place is take out only but we really love their food. If it is just the two of us, we do the Dinner for One deals, but if it is a large group, we will try all sorts of things off the menu. Yummy! Be sure to call ahead because they are always busy.New Golden Village
Pizza
We alternate between a shop in Grimsby and one in Smithville.
Gino's in Grimsby has nice thick crust. We have gone their for years. Take out only.  24 Main St E, Grimsby, ON L3M Gino's Pizza Grimsby

Everything is good at this place. The pizza, the subs, the wings. 110 Brock St, Smithville, ON L0R 2A0 (905) 957-7778 Smithville Pizzeria
Fine Dining
In the summer, you can sit on the patio and enjoy delicious food and wine. Beautiful atmosphere and great food. The Good Earth
Beamer Falls - Grimsby
Free Entrance
Beamer Falls has three different lovels of trails. When you get to the parking lot, walk down the closed roadway to the open park area. If you take the trail by the signs, you will have a gently walk. It takes you to three lookouts over Lake Ontario. You can take a stroller or walker. If you take the trail to the right side of the washrooms you are in for a nice little hike. It can be muddy so wear proper footwear. This trail meets up with the easy trail. If you want adventure, take the the sideloop that takes you down the escarpment fallowing along the river. Beamer Falls Trail Map
Balls Falls Historic Village - Vineland
You have to pay to get into this place.
The best time to visit Balls Falls Historic Village is when the water is running high. You can hike up to the upper falls and see them flowing.
The next best time is on Thanksgiving weekend when the festival is on. All the historic buildings are open that weekend and there are some great demonstrations.
Otherwise, anytime is great.
While here, you may want to check out Jordan Village. Lots of quiant stores and restaraunts. Plus the newly built Museum.
Balls Falls Lower Trail
This is a free trail and is really nice. Lots of up and downs. It takes you to the waters edge. It is located just downstream from Balls Falls Historic Village.
While here, you may want to check out Jordan Village. Lots of quaint stores and restaurants. Plus the newly built Museum.
3640 Glen Rd, Jordan Station, ON L0R 1S0 Balls Falls Hike
Bruce Trail in Our Backyard
This trail goes through the forest in the back of our property. From the parking lot you get to climb up the escarpment right way and then hike out to Thirty Road.Mountainview Conservation AreaandTrail Map
Parks by the Lake in Grimsby
You will have to Google these places to see them on a map.
THE PUMPHOUSE
447 Elizabeth St, Grimsby, ON L3M 3C2
There are benches overlooking the ducks and geese in the water. Behind the parking lot is a park with a nice walking trail along the river.
MURRY STREET PARK
65 Lakeside Dr, Grimsby, ON L3M 2L1
This park sits up high, overlooking the lake. It has a baseball diamond, playground equipment and lots of green space.
NELLES PARK BEACH
91 Lake St, Grimsby, ON L3M 3A2
Playground equipment and beach access.